I'm David CADRAN passionate about creating coloured sand pictures.
While visiting an exhibition near me I fell in love with this work, so I inquired, searched for the techniques and have been persevering ever since.
I live near the sea in a small village in the Côtes d¹Armor in Brittany. The sand is therefor not difficult to find. The size and texture of the grains are vary amazingly from one beach to another.
It has now been 3 years since I have been creating pictures with sand, It¹s magical !
I also make portraits with soft pastels and black and white tinted sand from photographs, which you can see here for yourself.

The basic sand techniques :
I draw onto the paper side of a sheet polyphane specially adapted for this purpose I then cut out delicately the paper with a cutter revealing the glue underneath. I then apply the sand onto the exposed sticky portion with either our fingers or a brush. By this way I'm able to create a variety of colours and textures and slowly the picture takes shape.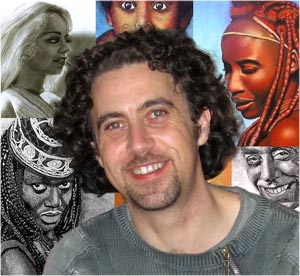 David Cadran artist :
Coloured sand pictures
Pastel